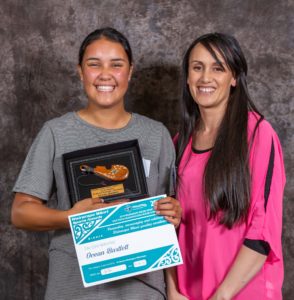 Ocean plays Cricket and Netball in teams that have had a high level of achievement this season.
She was in the St Matthews Senior A Netball team who played in the Premier A league for the 2019 season.  Ocean was the assistant coach for the St Matthews Primary A Netball team who won the Grade 1 division and umpired weekly for the team during the netball season.
Ocean is a senior member of the St Matthews Collegiate 1st XI cricket team. This team is one of six nationally to qualify for the National Gillette Venus Cup that will be contested in December. She is Captain of the Wairarapa Under 18 girls rep team who attended the Central Districts Under 18 Tournament held in Whanganui.  Ocean was named MVP of the entire tournament by taking 132 runs, 11 wickets and 6 catches.
Ocean gained selection into the Central Districts Under 18 team, Central Districts Under 21 team and the Hinds First Class Women's Cricket training squad.